Supporting ESMA's
European
Single Electronic Format (ESEF)
Enhance your annual reporting and quickly produce 100% compliant
ESEF documents
The ESEF Challenge
As a listed company, you want to be able to show shareholders, investors and staff the best of what the organisation is and your annual financial report plays an important part in this. However, the new ESEF rules also require you to produce an inline XBRL document and extension taxonomy.
The new format presents a number of challenges and you must decide what parts of the old document (PDF) processes you keep and what do you have to change.
Selecting the Right Approach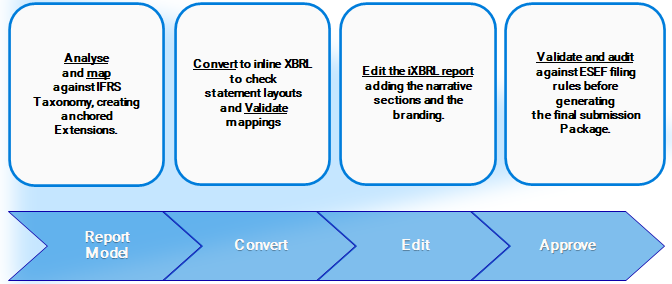 The required ESEF format, inline XBRL, presents both a technical issue as the tagged data can be interrogated and extracted into investment models, so must be 100% correct and also presents the issue of how to present the company's narrative and brand in an HTML format, which is much more dynamic than PDF.
Think Digital for the Future
It is easy to think of the annual return in terms of a PDF, but after ESEF and moving forward, shareholders and the investment community will read such information on the web and use it interactively. Many advanced thinking firms are already adopting this approach. It means a different approach to the way you see the annual report.
Most ESEF Vendors' Approach
Often starts with the final layout and content laid out in
final form

Tagging on Unstructured document

Taxonomy and extensions built-in real- time

Validation at end of process
PRONE TO ERROR
UBPartner's Approach
We start with the information the company wants to publish and the report model behind it

Tagging in a structured environment makes it easier

Taxonomy built and tested before document creation

Validation at all stages in the process
100% ERROR FREE ESEF REPORT

Range of Tools, One integrated suite
The UBPartner XBRL Toolkit (XT) for ESEF is organised around the major reporting steps. Each of the components are built to support the different Users – accountants, design and media specialists, internal and external auditors. The individual tools can be integrated into an existing workflow, or alternatively accessed as a suite via a web portal interface.

What comes first? Well, it has to be the financial data and company information that you want to share, so our tools start with the report model and producing an extension taxonomy that can be tested early in the Annual Report cycle. Fixing the model at the end (when the PDF is complete) might leads to a poor ESEF report and numerous hours tracking errors.

Validation, Validation, Validation
Validation services are available at each stage of the process to check that the report is correct before moving on to the next step. The tools providing both summary and detailed reports to ensure that the process can be monitored and effectively managed. This ensures that the final report is fully in compliance with the ESEF Conformance suite.